Arq 7 is here with more power to give you more control over your backups than ever before!
Arq 7 is fully backward-compatible with backup data created by older versions of Arq, but it's packed with new features. It's been through 4+ months of internal and beta testing, so it's solid. And it's 50% off when upgrading from Arq 5!
Perfect Backups
Arq 7 for macOS uses APFS "snapshots" for backup. Each backup record is an exact copy of the files at a point in time, even while files are being modified during the backup process. On Windows, Arq 7 uses VSS to achieve the same result.
Latest and Greatest for Mac
Arq 7 for macOS runs natively on Apple Silicon as well as Intel, and is Big Sur-compatible.
More Control
Arq 7 for Windows and macOS gives you more control over your backups:
Much faster scan time: Arq 7 scans files in parallel
Much less scanning: Arq 7 only scans directories which have changed
Automatic NAS handling: Arq 7 mounts network shares for you
Always-on backup: Arq 7 for macOS backs up even when you're not logged in
More at once: Arq 7 can run multiple backup jobs in parallel
More scheduling control: Limit the scheduled backups to certain days of the week
More bandwidth control: Limit the transfer rate to certain times of the day and certain days of the week
More file selection control: Powerful new rules for selecting which files are included and excluded from backup
More retention control: Time-based retention rules in addition to budget-based rules; keep deleted files in subsequent backups for easy locating of deleted files
More notification control: Configure your backup plan to alert if there have been no backups for a certain number of days (instead of after every aborted backup)
Faster restore: New data format means no need to read metadata before browsing and restoring from other computers' backups
More access control: Set a password on Arq 7 to prevent others from opening Arq and modifying settings or deleting backups.
More security: Arq 7 switches to using SHA256 for checksums instead of SHA1.
Revamped user interface: Arq 7's UI is a "native" interface like Arq 5, but organized logically so things are where you expect them to be.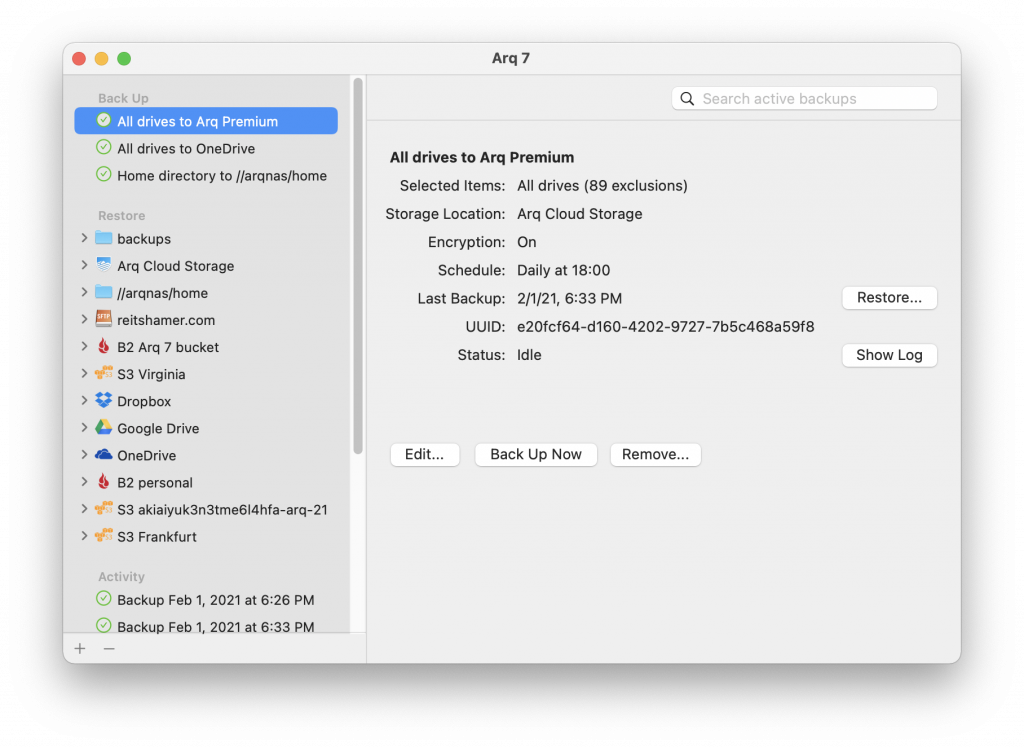 More storage savings
Arq 7 takes advantage of the latest ultra-cheap storage available from AWS and Google.
AWS's Glacier Deep Archive storage option is only $0.99/TB per month!
Google's new Archive option is similarly inexpensive at $1.23/TB per month, and with no delay in downloading your data.
Arq Premium subscription option
Our subscription offering is called Arq Premium. It's $5.99/month for all the features of Arq 7 for up to 5 computers, plus:
1 TB of storage included (extra storage is billed at $.00599/GB each month)
Super-simple setup
Secure web access to your backups if you need to grab files
Arq Premium is a great option for folks who want a simple, all-in-one backup solution.
Available Now